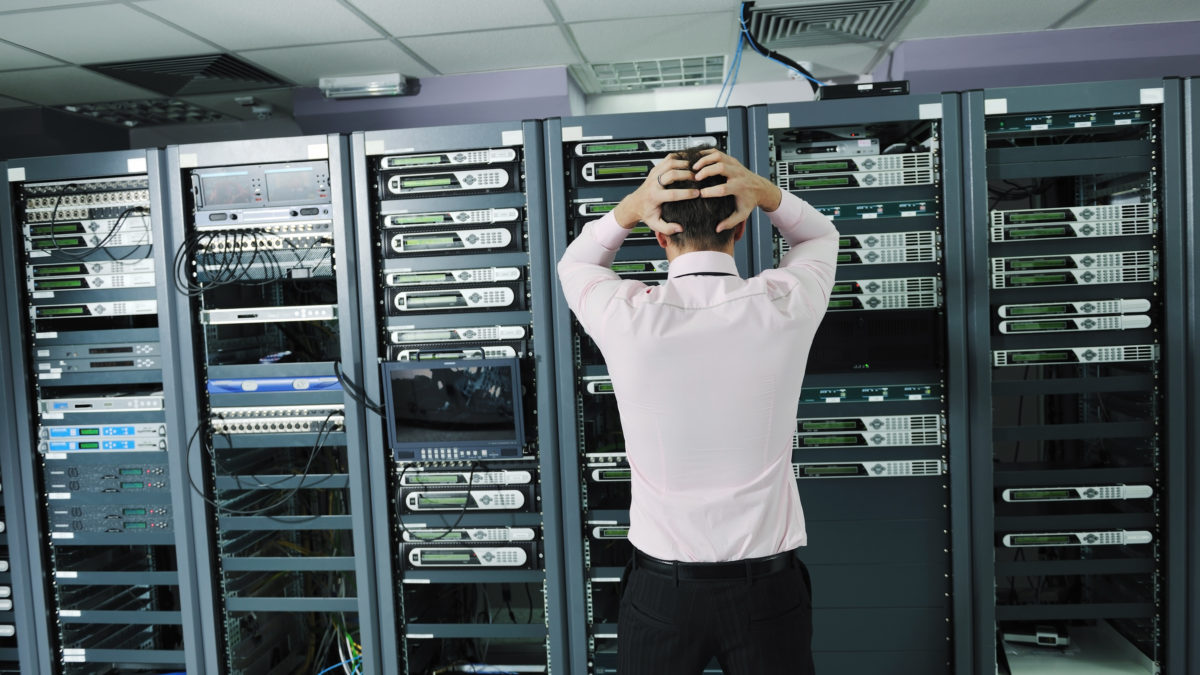 I Hate These Things: Why Does This Always Happen to Me?
We have long argued that people will change if they understand the new idea/technology value proposition—what's in it for me?  For some, this question is more difficult to answer than others.
Moreover, we are all stuck!  This age of digitalization may pass a few 'off the grid' hermits by, but for the rest of us there is no turning back.  So, what if I hate these computers and they never work as they should?  What's a person to do?
All of us have expressed some frustration with technology.  It doesn't work well.  It does not appear that Human Factors were considered in the development process.  Various 'Screens of Death,' and so forth and so on.  Of course, glitches occur at the least opportune time.
Turns out this frustration with technology is understood.  Dystechnia is defined as, "A barrier to organizational performance—a condition of flawed or failed efficacy in the use, deployment, or logistics of technology."[i]  Akin to other disorders of capacity, i.e., dyslexia it is basically the impairment of the ability to control a skill.
In other words, the inability to manage a Condition.  This becomes a reason to resist technological advancements as 'nothing is in it for me.'  In fact, it makes my life worse!
The Technology Acceptance Model (TAM), circa 1989 addressed two perceptions driving adoption Behavior, 'Perceived Usefulness' and 'Perceived Ease of Use.'[ii]  The what's in it for me question.
To change the Relationship that individuals have with technology, management must understand that those who resist may exhibit two traits:
Impaired capacity to apply the 'new' to daily tasks
Perception that it does not help them
Those regular readers of this blog are aware of the R B C model (Relationship, Behavior, Condition).  From our Cross-Cultural Serious Game, the model was originally developed to address issues around cross cultural (international) negotiation processes.  Relationships are the focal point of this perspective, reflecting commonality of interest, balance of power and trust as well as intensity of expressed conflict.
Behavior in this model is defined as a broad term including multi-dimensions and intentional as well as unintentional.  Finally, Conditions are defined as active and including circumstances, capabilities and skills of the parties, culture, and the environment.  Of course, time is a variable in this model as well.
One key feature of the R B C Framework is its emphasis on interactive relationships while providing an environment for multiple levels of behavioral analysis.[iii]
This makes it a useful tool to better understand technology take up resistance.  As with any forensic assessor, once we understand the Structural Dynamics we can implement approaches that will resolve efforts to thwart the 'new.'[iv]
How Does Your Organization Overcome Resistance to Change?
[i]  https://www.urbandictionary.com/define.php?term=dystechnia
[ii]  https://en.wikipedia.org/wiki/Technology_acceptance_model
[iv]  https://therrinstitute.com/wp-content/uploads/2017/10/structural_dynamics_-__version.pdf
Critical Mass: Value from the RBC Framework
Nuclear physicists define the term, "critical mass" as the amount of fissile material whereby a nuclear reaction is self-sustaining.  From that original definition, the construct is further developed along societal and political terms as a function of the environment and number of adopters and their interdependencies that create enough of a consensus for individual actions that sustains an undertaking.
In 1996, the author published the first of several case studies on a societal interaction model based on the Relationships, Behavior and Conditions (RBC) construct among economic actors. Previously the model was only in the domain of academia.
This blog addresses contemporary issues from the RBC perspective and whether in the present state they are sustainable or not.  Many readers may be familiar with the "Innovation Adoption Curve." RBC seeks to enlighten the causality of behaviors that cause movement towards the critical mass that generates movement along this diffusion curve.
Archives
Other Blogs Dr. Shemwell Authors
Dr. Shemwell is an author for the following 3rd party blogs.
Governing Energy Blog
From 2012 to the closure of PennEnergy in June 2016, Dr. Shemwell has authored a bi-weekly blog in partnership with PennEnergy.  Governing Energy addresses contemporary management issues facing the global energy sector.
The complete set of Governing Energy Blogs are available in book form..
BTOES Insights
BTOES Insights is the content portal for Business Transformation & Operational Excellence opinions, reports & news.  Dr. Shemwell is a contributor.
Consult 2050
Consult 2050 connects organizations with a wide range of consultants all around the world. The firm operates an online marketplace for consultancy services.
About the Author
Dr. Scott M. Shemwell has over 30 years technical and executive management experience primarily in the energy sector.  He is the author of six books and has written extensively about the field of operations.  Shemwell is the Managing Director of The Rapid Response Institute, a firm that focuses on providing its customers with solutions enabling Operational Excellence and regulatory compliance management.  He has studied cultural interactions for more than 30 years—his dissertation; Cross Cultural Negotiations Between Japanese and American Businessmen: A Systems Analysis (Exploratory Study) is an early peer reviewed manuscript addressing the systemic structure of societal relationships.
Recent Posts