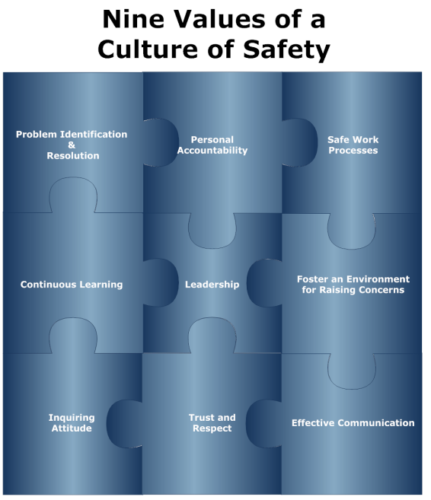 Implementing a Culture of Safety
Two Powerful Days that will Transform your Organization into a Safety Culture. 
Available as:
Instructor Facilitated
Online or e-Learning
Culture of Safety
The oil and gas industry is undergoing a major transformation.  Defined by the Bureau of Safety and Environmental Enforcement (BSEE) the industry is adopting the Nine Values of a Culture of Safety.  Originally, the construct of a Culture of Safety was for the United States Federal Offshore waters, aka Deepwater; however, the global industry is embracing these as part of their Operations Management Systems (OMS).
While this workshop is rooted in the offshore energy sector it is applicable to all firms in Homeland Security's Critical Infrastructure Sectors.
In this high impact, two-day executive seminar executives and others responsible for safe and environmentally accountable field operations.  Led by Dr. Scott Shemwell, an acknowledged leader in field operations and systemic risk management you will learn more in two days than you thought possible.
Moreover, some believe their organization is not required to meet these tenets because you are not an operator but simply a supplier.  Note that your customers are demanding you help them meet these tenets!   Additionally, operators are auditing the supply chain for compliance.  In some cases it is the law of the land as well.
Typical Workshop
Please note that RRI can tailor this workshop to meet specific client requirements.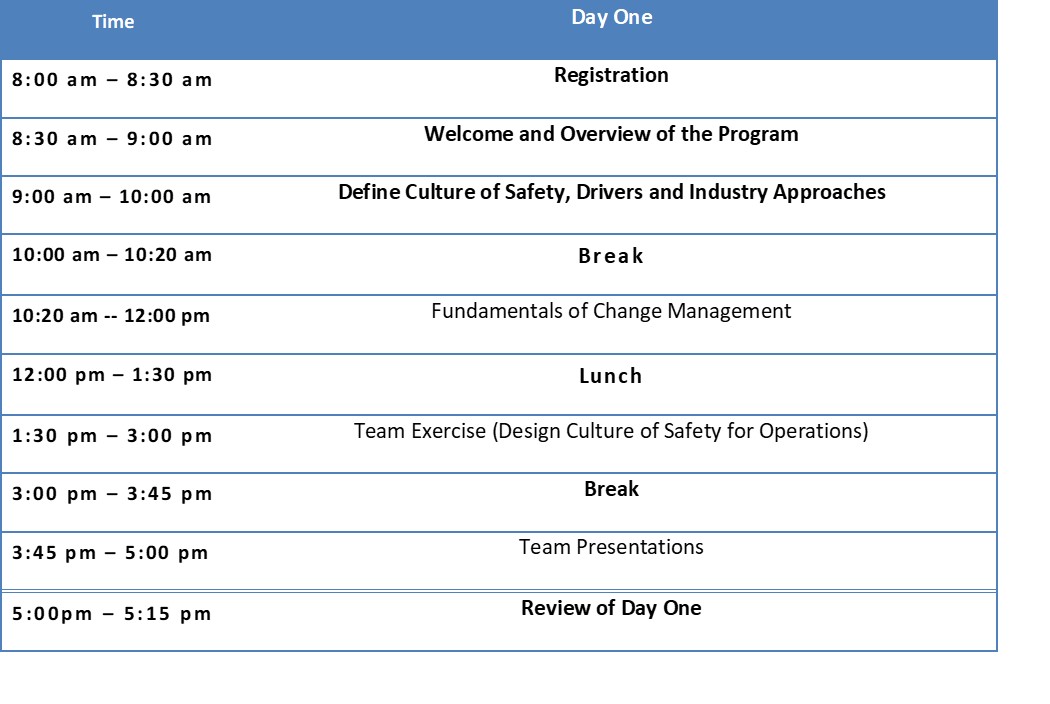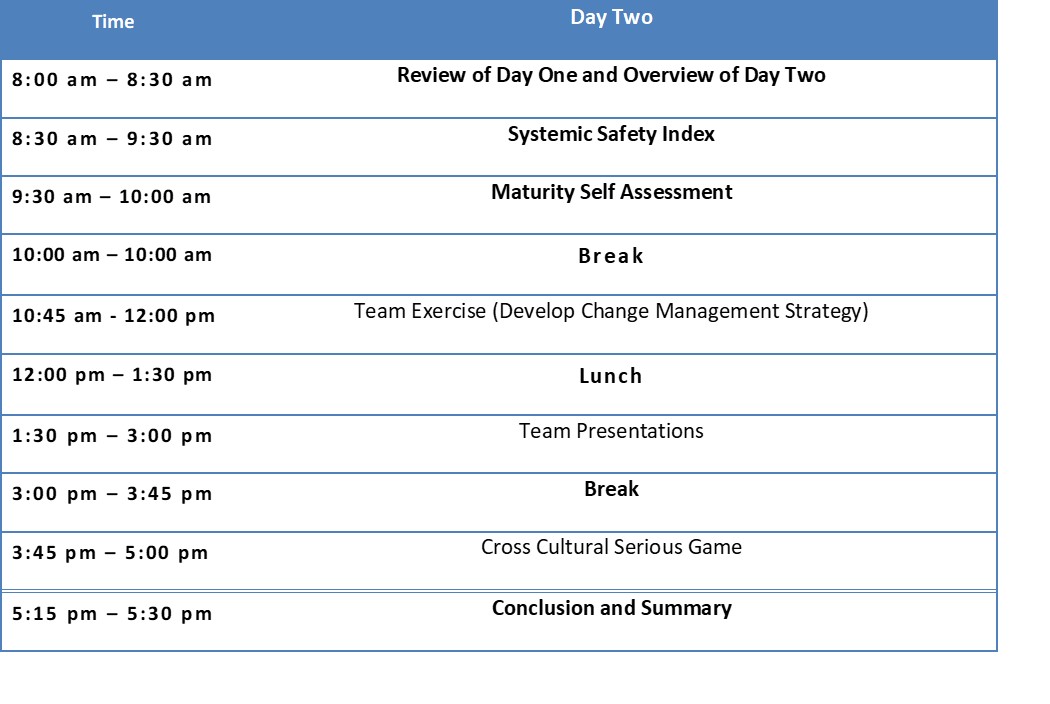 Following the Introduction and Overview of the day, we will jump right into this high impact program.
Define Culture of Safety, Drivers and Industry Approaches
During this hour, we will define the following terms as well as provide background on the new regulatory requirements, other industry and economic drivers as well as case studies of industry response and expectations.    
Safety and Environmental Management Systems (SEMS)

High Reliability Management

Culture of Safety

Operations Management System (OMS)

ISO 55000

Other (as appropriate)
Fundamentals of Change Management
Change does not have to be hard!  In fact, properly done organizational transformation can we widely accepted even embraced early on.  Learn the latest techniques and how to have your company relish the new business model.
Team Exercises/Presentations
These hands-on sessions are designed to immerse the participants in real world driven processes.  For both sessions, small teams are formed to  address scenarios designed to raise real issues and develop material solutions.  Depending on the number of participants, it is expected that each team will address a different issue.
At the end of the exercise, each team will present its findings and recommendations. Input, feedback and discussion will be provided by the class.  This will enhance the learning for the all attendees.
Design Culture of Safety for Operations
During this exercise, the team will design a Culture of Safety Framework for their organization.  Using provided workbook materials and a framework model, the team will develop a frame and implementation criteria that can be used as the basis of your company operations.
Develop Change Management Strategy
As with the first team exercise, participants will develop a transformation strategy for their company. The framework and other materials provided will form the basis of the organizational change management process to undertake at all levels of the organization.
Other Components of the Workshop
Systemic Safety Index
RRI has developed an organizational health matrix model specifically focused on four components that directly affect an organization's ability to develop and sustain a robust Culture of Safety.
This framework has two major axes, Strategic or those foundation components that assure an organization is sustainable and Operations. For example, the financial strengths necessary as well as regulatory compliance that assures License to Operate. 
Maturity Self-Assessment
This maturity model is designed to help operators assess the maturity and readiness of their suppliers.
Cross Cultural Serious Game
This game is a training tool designed to increase cultural and diversity awareness in the work place environment. It is the result of over two decades of development and testing. One scenario provides students the opportunity to collaborate as operators with energy service providers to complete a well safe and on time.
For additional information, check out the following:
Who Should Attend
The requirements for a Culture of Safety affect all levels of the organization.  Senior executives as well as those specifically charged with Health, Safety and the Environment (HSE) should attend.  These include the following positions as well as your key ecosystem partners
Operators & Service Companies
C-Level Individuals

Line of Business Executives

Engineering

Risk Management

Field Operations

IT Professionals
Others
Legal

HR/Consultants

Training

Regulatory Agencies

Ecosystem Members

Interested Parties
What You Will Learn
This session will provide participants with a comprehensive overview of this critical issue in the energy industry as well as hands on experience developing solutions to address this matter.  Upon completion, you will be able to:
Explain

and

train

your organization for the industry transformation to a Culture of Safety

Design, develop, implement

and

sustain

a Culture of Safety in your organization    

Assure your

Management System

supports a Culture of Safety