According to Investopedia, "Environmental, social, and governance (ESG) criteria are a set of standards for a company's operations that socially conscious investors use to screen potential investments."  Definitions of the three components are pretty straightforward:
Environmental–Generally refers to the stewardship of the planet and how organizations facilitate that responsibility.
Social–Facilitating organizational responsibility to the global society, at all levels from the globe to the local communities firms operate in.
(Corporate) Governance–Typically, the umbrella organizations put in place to assure issues such as transparency, fraud, safety culture and ethics are in compliance with social norms and local regulations.
Since the Deepwater Horizon incident of April 2020, operators (oil and gas companies) have extended and enhanced the above criteria to their supply chain ecosystem and in some cases even customers with a Safety and Environmental Management System (SEMS).  This is true of most other Critical Infrastructure sectors as well.
Likewise, the Sarbanes-Oxley Act of 2002 enhanced transparency and increased fraud protection after the Enron (and other) scandals.  Other incidents have triggered governance changes as well and some are referred to in linked materials.
Why Is ESG Important?
By one account, approximately $12 trillion in investments made in 2018 were driven by those who consider themselves socially responsible.  According to Forbes, in 2019 this accounted for almost 25% of total investments and are seen through the lens of sustainability.  Moreover, between 2016 to 2018, the growth rate in such firms grew at 38 percent.
These numbers confirm our research going back to the turn of the century and perhaps earlier.  In 1993 we controversially posited that the Principles of Scientific Management were applicable to software development by Knowledge Workers.  Developed by Frederick Taylor, his monograph was published circa 1911.
In other words, owners (investors) have always demanded top notch, legal and ethical performance.  Activist investors, i.e. Carl Icahn are not new.  As always, they have a very important role to play in the current markets.
Asset/Equipment Integrity Governance
There is a buzz of newness to ESG; however, from a contrarian perspective, this is not necessarily the case.  After the Deepwater Horizon failure with significant loss of live and many billions in economic losses to many parties including BP, it became clear that traditional Governance models did not have a focus on operations and the management of capital assets, i.e., manufacturing plants, marine vessels and other revenue producing sources.
In our book we addressed a New Risk Environment from large corporate operations in which 'failure is really not an option."  We stated as a risk element, "Escalation of Consequences: The level of consequences of a disaster in the energy industry can now be larger than from the accidental release of a multi-megaton nuclear weapon."
Still governance models continued to struggle.  We believe that in the critical infrastructure sectors there is a lack of strong bonding, in other words top management is still hands off and operating from historical 'control' models that are no longer relevant or applicable.
We do not believe this will change until a Strong Bond (tightly coupled) model is adopted.  We define the term as, "A strong model is used by High Reliability Organizations (HRO) and as part of that model, trained; knowledgeable personnel are empowered to make the right decisions in the field.  The strong model provides an organization with the capability to become and remain and HRO."
In 2011, we released our monograph, Asset/Equipment Integrity Governance: Operations–Enterprise Alignment; A Case for Board Oversight (AEIG).  In addition to developing a financial model documenting the Return on Investment (ROI) from strong governance, a Compliance Model, as well as a robust AEIG Matrix which incorporates an Asset Maturity Model are part of the solution.
The AEIG extends the enterprise governance model to include the full ecosystem including subcontractors to its primary supply chain partners.  While not directly addressed at the time, Diversity, Equity and Inclusion (DEI) is implicit in the model.
This roadmap is comprehensive and is a good starting point for developing and implementing a vigorous ESG initiative.  Other monographs in our Changing the Dialogue series (exploring our New Business Dynamics) include Structural Dynamics and Rapid Response Management are available online.
R
elationships, 

Behaviors, Conditions

Scroll down on The Rapid Response Institute, Operational Excellence Platform page and you will find our R B C Framework Cultural Transformation model.  Shown below for ease of readership.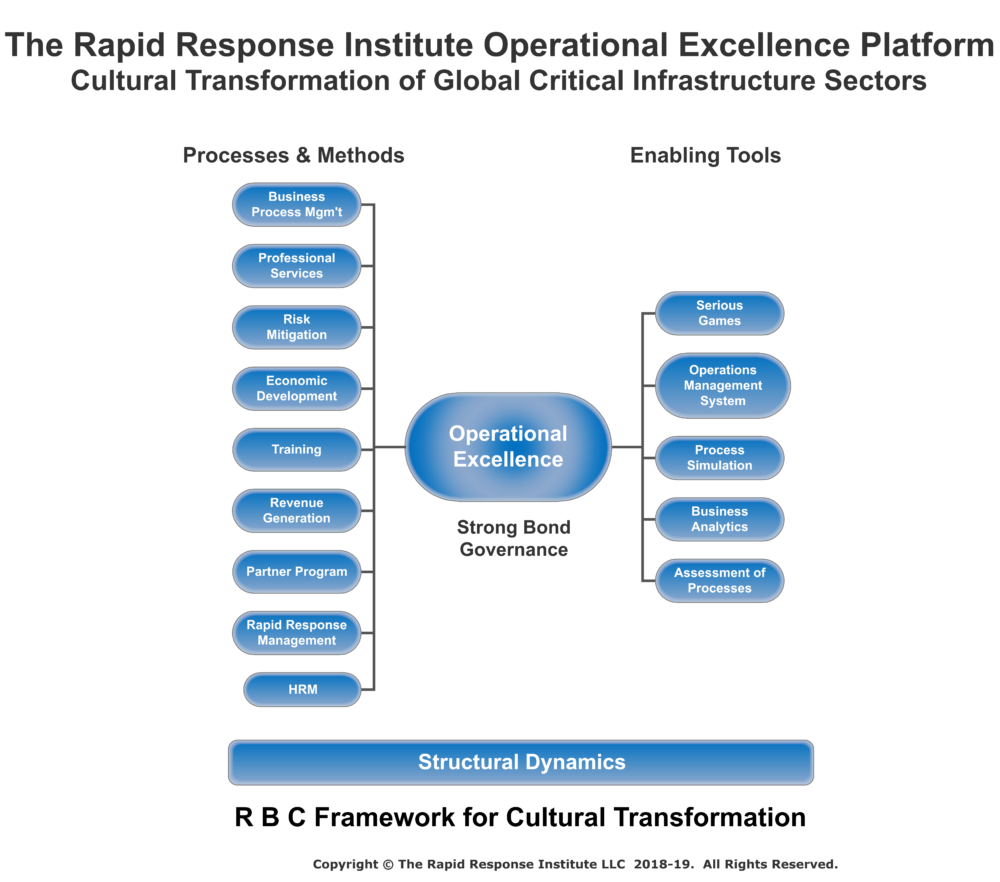 The R B C model was originally developed to research international (cross cultural) negotiations.  We have extended it to support the transformation process to a robust and model organization culture such discussed herein.  Readers should note that this model is focused on Operational Excellence and is comprised on Processes & Methods supported by Enabling Tools.
Built on Structural Dynamics which was developed as part of Dr. Shemwell's doctoral dissertation in 1996.  It is defined as, "The morphology or patterns of motion towards process equilibrium of interpersonal systems."
This proven Framework is grounded in Management Science yet is a useful tool (Roadmap) that real originations can successfully and cost effectively implement.  We believe it is the best approach for attaining ESG.
Summary
One can view the current ESG status as part of a continuum to hold organizations accountable as appropriate and frankly, increase their Operational Excellence.  We have long known that firm's that are well managed command superior stock market multiples and greater equity value.
Many 'self-serving' consultants and pundit would have us believe ESG is breakthrough Thought Leadership in need of their help.  Nothing could be further from the truth.
In the early 1990s, we document the history and evolution of Management Science/Thinking.   It is not written in stone, like most human endeavors it evolves and has for thousands of years.  ESG is a step in this continuum.
How is Your Organization Addressing the Requirements of Active Investors?
For More Information
Please note, RRI does not endorse or advocate the links to any third-party materials.  They are provided for education and entertainment only.
For more information on Cross Cultural Engagement, check out our Cross Cultural Serious Game.  Two current online games; Safety Culture and Diverse Teams specifically address issues raised by ESG Criteria.  If you have any questions, please contact this author as well.
Graphic Source: The Rapid Response Institute derived from a Storyblocks image under license.