The total or lifecycle carbon footprint for any energy source is a function of the manufacturing, commissioning, operation (including maintenance) and decommissioning of that asset.  Moreover, the value of an electric powered vehicles (EV) is seen as a function of the amount of fossil fuel no longer used by the vehicle.  However, this is only a sub-model of the to carbon footprint of any component in the Basket of (Energy) Goods, aka Energy Basket.
All energy resources in the basket must be held to the same set of metrics.  These include Human Resources (including diversity and inclusion), Safety Culture, communities as well as the bottom line performance against governance standards (ESG).
Risk Governance
A governance framework that exceeds these standards follows.  Evolving over several decades, it reflects a comprehensive approach to operational risk that is often overlooked.  It addresses the entire life of a revenue producing asset.
Lifecycle risk mitigation of an energy resource must include the end of the asset life processes.  What governance driven processes are in place to prevent the accumulation of wind turbine blades or spent solar panels stacked and abandoned?  Just like the tires stacked for decades.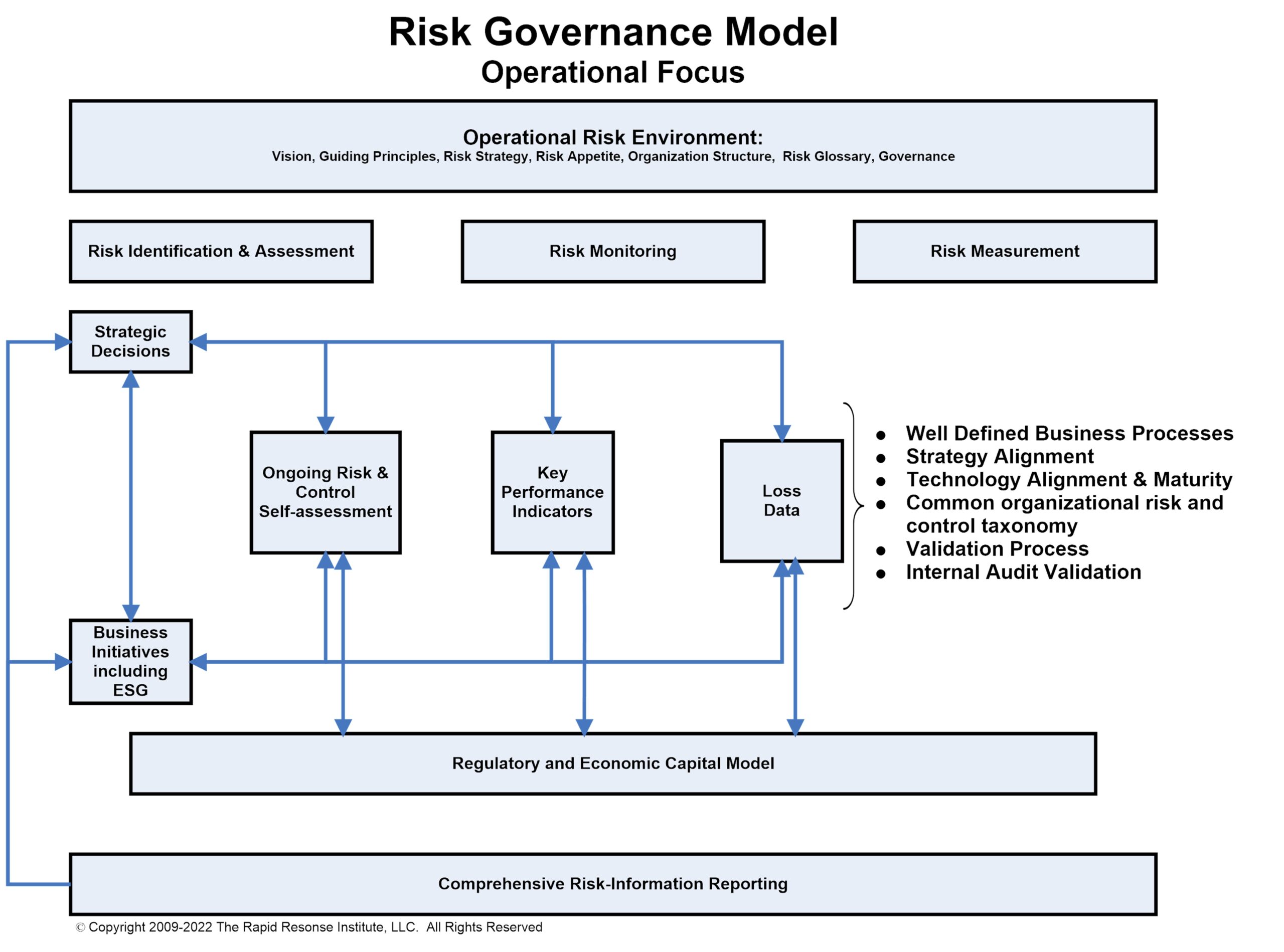 Turns out the answer is few.  Long life assets such as factories, skyscrapers, fossil fuel production systems, etc. are built to the engineering, industry and local regulatory standards of that day.  Ongoing operations, maintenance, upgrades and so forth keep them performing at acceptable levels.  However, governance models are often focused on the present.  End of asset life risk does not fit into the four quarter management mindset as the event may be sometime in the future.
The above graphic represents a governance model built around operations and associated risks.  The archetype recognizes that many risk mitigation processes are inadequate for today's complex organizations with multi-faceted global processes.
Its framework is built upon the work done by the Treadwell Commission several decades ago to detect financial fraud.  This structure supports the extension into field operations and provides a structure for attaining and sustaining Operational Excellence.
Risk mitigation is both quantitative and qualitative.  The risk associate with the use of any industrial energy source must be thoroughly assessed as a function of its lifecycle, not just its initial CAPEX and ongoing operations.
Dumping v Decommissioning
Illegal industrial dumping has long been a problem.  Today, some in the wind turbine sector appear to be following the decades long vehicle tire disposal process (or lack thereof).
Lady Bird Johnson at least tried to hide the piles of tire debris but no one has found a way of completely dealing with this growing and massive problem.  As of 2017, some 17% were still disposed of in landfills.  In 2003, the EPA reports that almost 300 million tires are scraped each year.  Flash forward to today and this is likely a very conservative number.  That said, 17% equals approximately 50 million tires headed to landfills as opposed to recycling.
Moreover, there is a long history of industrial dumping trash so as not to have to pay the disposal fees.  One wonders how many millions of tires destined for landfills (and other recycling) are just dumped?
The decommissioning process is the responsible end-of-asset-life shutdown and removal.  The intent is to return the site to a condition similar to its initial environment and properly remove and dispose of equipment and materials.  It should not include stacking wind turbine blades next to a pile of discarded vehicle tires.
Total Carbon Lifecycle Model
Daily, we hear about the need to reduce carbon output to (net) zero.  Promises are made by many that by such and such a time this metric will be met.  Caveat: usually the time period is beyond the expected tenure of those making the statements.  Often lost in the discussion is the carbon cost of manufacturing and decommissioning.
Carbon output should include the mineral extraction process, recycling of older materials if appropriate, transportation, manufacturing, installation, operations and decommissioning.  It also must include the carbon cost of the supply chain necessary to support the asset across its lifecycle.  For example, the carbon cost of an EV is not just the vehicle's operation but the lifecycle of the vehicle as well as the electric power generation and distribution necessary to operate the automobile.  Do not forget the carbon cost of manufacturing a battery and disposing of it at end of life.
Scrap
Materials are often staged for recycling.  They feed a process that results in new useful product(s) that may add new value.  This is a useful recycling process that makes a lot of sense.  However, sometimes this is not as economical as new manufacturing.  These economics lead to dumping as the low-cost-solution.  Fields of discarded materials may or may not be awaiting recycling.
Defining Green
Being green is not simply using renewable electricity instead of gasoline.  If the carbon footprint is no different or even worse, then the problem is not solved and may even be made greater.
Keep in mind that coal is still a major fuel in the generation of electricity.  According to the US Energy Information Administration (EIA), in 2020 over 60% of power is generated using fossil fuels of which over 19% is from coal.  This does not include the carbon footprint of materials and products imported to the US.
So if the carbon footprint of a wind turbine is defined as its lifecycle and if at the end result is abandonment in a field, is the green value of that product positive?  Or is it just dumping not unlike the pollution of a nation's river systems?
Being green is not just plugging in your car overnight.  Like most things in life, it is systemic.
Is Your Organization's Green Plan Systemic or Myopic?
For More Information
Please note, RRI does not endorse or advocate the links to any third-party materials.  They are provided for education and entertainment only.
For more information on Cross Cultural Engagement, check out our Cross Cultural Serious Game
We presented, Should Cross Cultural Serious Games Be Included in Your Diversity Program: Best Practices and Lessons Learned at the Online Conference, New Diversity Summit 2020 the week of September 14, 2020.  Check Out this timely event and contact the organizer for access to the presentations!!
For more on DEI Standards, see the newly released ISO-30415.
You can contact this author as well.